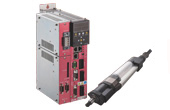 No overshoot at the time of seating even from rotational speed of over 1,000 rpm.
Miniaturization and cost reduction of installations .


Various types of fastening available from single-spindle simple fastening up to multi-spindle complex fastening and from 1 Nm to 5000Nm.

The smallest and the lightest nutrunner in the industry. The mounting of an ultra-compact transducer assures high-precision fastening.